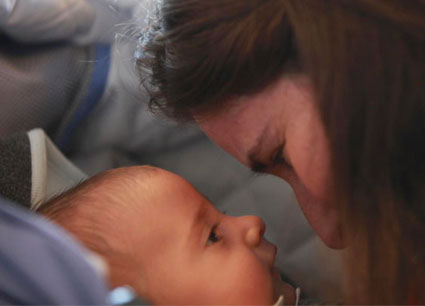 Your baby's expressions and vision.
Retour à la liste
Your baby's eyes are wide open at birth!
Your baby sees you, stares at you and wants to be touched. It's the first contact with the people around her.

She's captivated by your face and your mouth moving as it coos and comforts. She looks at you often while nursing, and the bigger she gets, the more she looks at you. It's a sacred moment between you and your baby.
You are your baby's mirror. The way you look at her conveys your moods, and she senses whether you're present or your mind is elsewhere.

There is a close correlation between your baby beginning to visually react and her state of awareness. Your baby is more able to receive and react to stimuli when they are in a state of "alert inactivity." This is especially heightened right after eating. Your baby's eyes are wide open and gleaming. She is moving less, and her breathing is steady.

There is a direct link between this state of alertness and her visual and audio perception. Of course, not all babies are alike, and they all have different levels of attention.
In the first week, your baby cannot stay alert for more than five minutes at a time and less than a half hour per day.
She is especially captivated by your face, which is close to her while she's nursing.

Even this brief encounter has a profound impact on your baby's development.
Retour à la liste